Holy Moments ...
Thank YOU INXS for the most Brilliant Song ...
I've had a New Sensation …
I've been going back and forth with the main Gist of my Project. From taking notes during Ash Wednesday Mass, to going through my Library of Photography Books (particularly Linda McCartney ) , to revisiting Old Blog Posts, to taking random notes whilst I watch my favorite Content Creators. Then all of a sudden yesterday, exactly 3 Months to the day I wanted to 'start' this Project (then it was entitled 'Living 55' ) , I had an epiphany, it clicked, and I cried. What made me cry? Click on this Video from Matthew Kelly. Afterwards, I grabbed my Journal, and wrote this:
What is a Holy Moment?
Documenting is Holy.
Honoring is Holy.
The moment of discovery is Holy, as is the act of giving it away.
Of course, Matthew Kelly's premise stems from his Catholic Faith. As I am Catholic as well, his sentiments felt like home to me.
I've been at a precipice of late. Do I step back in fear of Life or do I listen to the ledge bravely and respond? I choose Courageousness. Since that auspicious moment, my trepidation over the past three months has been chipped at, vanquished, fragmented away.
If I could just table the conversation of Faith for a moment, I would posit that anything that lights us up, that makes us feel full, that makes us feel Love, be Loved, give Love in return, is a Holy Moment.
Which brings me to an old blog post that I wrote based on a decade worth of being on my own and getting back to me.
Click for the original Post, these were Holy Moments.
After revisiting this post, I realized, that the rush to grab a camera; Film, Digital, Instant, Video, Phone, is my unconscious saying it's a Holy Moment; Document, Savor, Share it. So, I did and still do, passionately and unabashedly. Click here for my love letter to Photography and for consciously Documenting those Holy Moments ...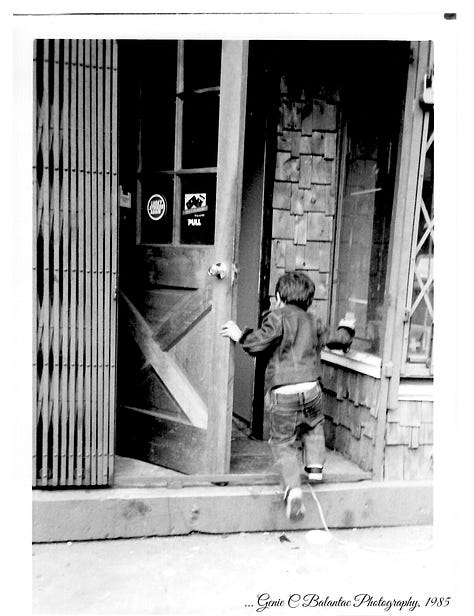 Which brings me right back to my Project. 'Holy Moments' will be the main crux of it, and even though I had the best intentions to plan it all out (I could do that forever), it will be in flux and it will evolve as I go. I will start Easter Week, and will end a year later during the same week.
The bulk of it will be mostly images; on Film but Digital when need be. There will be Vlogs; on my YouTube Channel , here on my Substack, or Reels on my Instagram. I am toying with doing interviews/podcasts with people who inspire me, and I have piles of books that I am going to gather prompts and motivation from. I also plan on Visual Journaling and old school Writing on paper. Just like my Zine, Living as Art, anything and everything that crosses my path or fills up days, will find it's why into my project.
At the end of it, I hope I will have cultivated a more intentional way of life, enough material to self publish, and the feeling that I have put back into the World what God has given me … Holy Moments.
In the meantime check out my Video Intro for my Music/Mary McCartney Homage. Click Here!
Click here for my Endeavour Homage Intro ...
And Some Images from my recent Creative Mini Break:
All Holy, Indeed!
Until next time … Much Peace + Love, G XXX